On the Restaurant Scene

REVIEWS, IMPRESSIONS, COMMENTS, COMPLAINTS

Send your comments to: hello@thebrandywine.com



Styers Garden Café, Terrain at Styers

914 Baltimore Pike, Glen Mills, PA 19342 - 610-459-2400 ext 5
Reviewed by

TheBrandywine.com

on .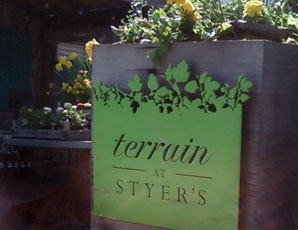 Can't tell you how totally impressed we are with Styers Garden Café in Glen Mills and we aren't the only ones. We went for brunch on a Saturday and had a 40 minute wait. Not the worst place to wait though. Lots to things to see and sample, books to browse, plants names to learn. We were seated early, but not in the greenhouse. Some people are willing to wait longer for that room. We aren't. Service was prompt once we were seated, even though the restaurant was at capacity. Our iced tea and spritzer were served after a five minute wait and when they arrived we ordered a Cheese Board to share along with our entrees. The cheese board is a wonderful sampler of local cheeses, honey, and reduction sauces with toasted bread. We really enjoyed it, ate everything but the wood round it was served on. Then we had an omelette and steak and eggs. Our waitress had actually brought our entrees with the cheese board, but realizing the timing faux pas took the entrees back and had them made again for us. Really smart service. We are real fans. 3/22/2011
---
Archived Reviews
Antica
Styers Garden Café
Kid Shelleen's
Bordley House
Cromwell's American Tavern & Taqueria
Harry's Savoy Grill
Harvest Seasonal Grill & Wine Bar
Lily Asian Cuisine Sushi & Grill
Michoacana Grill
Mushrooms Cafe
Twelves Grill & Cafe
Brandywine Brewing Co.
Doc Magrogan's
The Whip Tavern
Catherine's
Harry's Seafood Grill