On the Restaurant Scene

REVIEWS, IMPRESSIONS, COMMENTS, COMPLAINTS

Send your comments to: hello@thebrandywine.com

210 S. Union Street
Kennett Square, PA - 610-444-8979
Reviewed by

TheBrandywine.com

.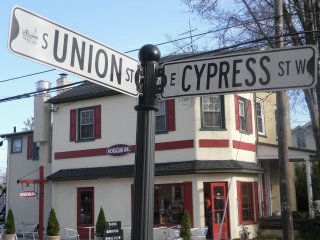 In the Brandywine valley there is no food truck culture... like in LA. That's just something you watch on television... right? Well, not exactly. In Kennett Square, at 210 S. Union Street, Michoacana Grill comes close. Walk in the door and they will make you a burrito, quesadilla or tacos fresh and to order. How can you beat three fish or shrimp tacos for $7.50? And that's with your choice of 3 toppings. Seriously, if you like Mexican food you have to stop into the Michoacana Grill for lunch or a snack or call ahead 610-444-8979 and place an order for pick-up, you will not regret it. 4/29/2012



---
Archived Reviews
Antica
Styers Garden Café
Kid Shelleen's
Bordley House
Cromwell's American Tavern & Taqueria
Harry's Savoy Grill
Harvest Seasonal Grill & Wine Bar
Lily Asian Cuisine Sushi & Grill
Michoacana Grill
Mushrooms Cafe
Twelves Grill & Cafe
Brandywine Brewing Co.
Doc Magrogan's
The Whip Tavern
Catherine's
Harry's Seafood Grill