On the Restaurant Scene

REVIEWS, IMPRESSIONS, COMMENTS, COMPLAINTS

Send your comments to: hello@thebrandywine.com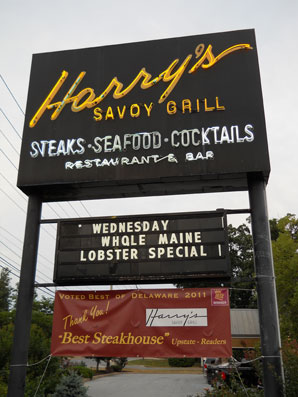 2020 Naaman's Road
Wilmington, DE 19810
302-475-3000
Reviewed by

TheBrandywine.com

.

It had been over 10 years since we had dined at Harry's Savoy Grill on Naaman's Road in Wilmington, so feeling in the mood for lobster, we decided to take them up on their "Wednesday Lobster Special - Steamed 1.5lb Whole Maine Lobster $25.95". It can often be hard to come across deals like this so this helped. To tell you the truth, when I see these kinds of specials I am expecting small lobsters that are all shell and no lobster, but I wanted to give Harry's the benefit of the doubt. When I saw that the menu gave the provenance of the crustaceans I felt a lot better about our prospects. It read, "Lobsters from Greenhead Point Lobster Co-op Stonington, Maine".

I have to say after giving the Savoy Grill the quick once over, it seemed exactly as I remembered. That doesn't mean that it wasn't totally refurbished since our last visit, just that it was familiar... no big changes. We were seated and Eric, our waiter, welcomed us back and immediately inquired as to our water preference, still or sparking. He told us about the specials, the prime rib and more and then went to get us our water. We started with a Bloody Mary and a dirty martini. Both were well made. We shared a Highland Orchard Salad and then were served our lobsters which came with perfectly cooked corn on the cob and golden potatoes. The lobster were also cooked perfectly, not overdone at all. The tails were split for us, but we had to crack the claws. No problems or incidents, cuts or mishaps, but I did make a bit of a mess. Good thing we were provided with napkins that clipped around our necks serving as a bib. After the lobsters we were served hot napkins with lemon to clean up. A really nice touch. For dessert we shared the Belgian Chocolate Gourmandise, recommended by Eric, and enjoyed decaf cappucinos which were served hot and in deep cups so they stayed that way. Have to hand it to Harry, he's still the best at what he does. Great food and great service from Eric, a real pro. If you enjoy lobster, go.



---
Archived Reviews
Antica
Styers Garden Café
Kid Shelleen's
Bordley House
Cromwell's American Tavern & Taqueria
Harry's Savoy Grill
Harvest Seasonal Grill & Wine Bar
Lily Asian Cuisine Sushi & Grill
Michoacana Grill
Mushrooms Cafe
Twelves Grill & Cafe
Brandywine Brewing Co.
Doc Magrogan's
The Whip Tavern
Catherine's
Harry's Seafood Grill