On the Restaurant Scene

REVIEWS, IMPRESSIONS, COMMENTS, COMPLAINTS

Send your comments to: hello@thebrandywine.com


Kennett Square, PA 19348
610.925.3700
Reviewed by

TheBrandywine.com


.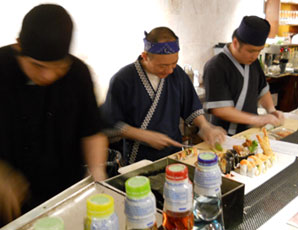 ow you can get good, authentic sushi, teriyaki, hand rolls and bento boxes right in Kennett Square at 104 West State Street next door to Talula's. Lily Asian Cuisine Sushi & Grill is open for lunch and dinner seven days a week with All You Can Eat Sushi on Tuesdays. The good news is the food. We ordered the Chicken Teriyaki, Spicy Jumbo Crab Roll, Soft Shell Crab Roll one Salmon Sushi... all with brown rice. Everything was fresh, well made and presented. The bad news is the restaurant is small so seating is limited. They only just opened in June so they are still working out some of the service protocols. Call ahead to reserve a table (610.925.3700). BYOB. Enjoy.
---
Archived Reviews
Antica
Styers Garden Café
Kid Shelleen's
Bordley House
Cromwell's American Tavern & Taqueria
Harry's Savoy Grill
Harvest Seasonal Grill & Wine Bar
Lily Asian Cuisine Sushi & Grill
Michoacana Grill
Mushrooms Cafe
Twelves Grill & Cafe
Brandywine Brewing Co.
Doc Magrogan's
The Whip Tavern
Catherine's
Harry's Seafood Grill