On the Restaurant Scene

REVIEWS, IMPRESSIONS, COMMENTS, COMPLAINTS

Send your comments to: hello@thebrandywine.com



Sixth & Pine Diner, Nordstrom, Christiana Mall

100 Christiana Mall, Newark, DE (302) 613-6000
Reviewed by

TheBrandywine.com

on .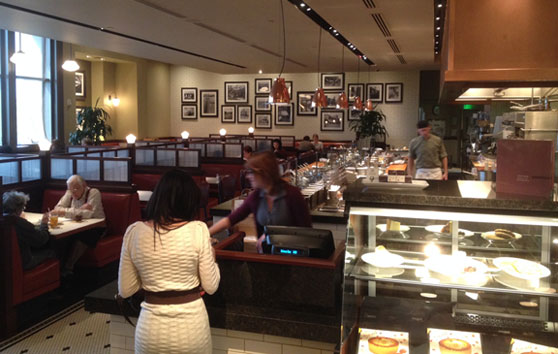 Sixth & Pine markets themselves as "A Hip Diner with the Heart of a Deli" which is accurate, but we call the restaurant our best kept secret. We have debated as to whether to share because the seating is so limited and we would hate to get crowded out, but we want to make sure they stay open. Go there once and let us know what you think.
Their menu just changed. They offer starters like Mediterranean Hummus and Crisp Potato Latkes. Great salads (e.g. Chicken & Strawberry, Chicken Apple & White Cheddar) and Prime Plates including Sixth & Pine Fish & Chips and Roasted Salmon & Herbed Mushrooms Risotto. Sound like a typical diner to you?
Their sandwiches are superbly crafted. Our favorite Blackened Salmon was not on the menu so we ordered the California Grill, natural roast turkey, tomato, bacon, swiss cheese, avocado, garlic aioli on grilled sourdough bread. We substituted a toasted onion roll since we are not fans of sourdough. Incredible! Perfectly prepared and constructed. The S&P chefs specialize and it shows.
Give them a try when you're at the Christiana Mall. Great comfort food in a comfortable atmosphere... and the servers are polite, knowledgeable and attentive too!
---
Archived Reviews
Antica
Styers Garden Café
Kid Shelleen's
Bordley House
Cromwell's American Tavern & Taqueria
Harry's Savoy Grill
Harvest Seasonal Grill & Wine Bar
Lily Asian Cuisine Sushi & Grill
Michoacana Grill
Mushrooms Cafe
Twelves Grill & Cafe
Brandywine Brewing Co.
Doc Magrogan's
The Whip Tavern
Catherine's
Harry's Seafood Grill