The taste of wines grown from Pennsylvania grapes may surprise you.

The Wines of the Brandywine Valley

The Brandywine Valley in southeastern Chester County is just about two hours by car from New York City and Washington DC and less from Baltimore which makes it a great destination for a close-to-home getaway weekend or short vacation for wine enthusiasts.



Good Food and Wine Go Together in the Brandywine

While most visitors come to the Brandywine Valley to experience the former DuPont estates, now museums and gardens open to the public, many are surprised by the number of world-class restaurants that call the area home and the award-winning wines that are created here from locally grown grapes. It's the soil and micro-climate here in southern Chester County, PA that make the area particularly well suited to growing many varieties of grapes.

Brandywine Valley & Chester County Wineries

Chaddsford Winery in Chadds Ford, PA, is the largest and best known of the southern Chester County wineries. Located less than a mile from the Brandywine River Museum it is a destination for tastings, concerts and events such as it's annual Labor Day Weekend Jazz Festival an end of summer ritual offering up cool wines and hot jazz. Perhaps best known for their Chardonnay, their wines include Merican, Merlot, Cabernet Sauvignon, Pinot Noir. In 2008 Chaddsford Winery was named to Wine Enthusiast's list of "America's Top 25 Tasting Rooms".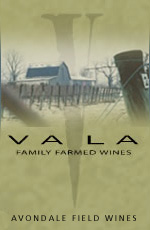 --- David Schildknecht, The Wine Advocate:

Visiting Our Farm
Our family farms a small field near the town of Avondale. From it, we produce four wines. Each wine is made in the ancient methods of 'vins de terroir', from a blend of northern italian varieties that have been selected by the soils of this field.

The vines are farmed by the winemaker; no purchased grapes are used, in good times or in bad.

We produce a small amount of bottles annually. Each are 100% dolphin-free products, outrageously priced from $28-$52 (US). The wines are offered here by bottle and by glass; a tasting flight of four is also available ~ $20.

We hope very much that you enjoy them.

-- Anthony and family.

Hours: Fridays: 12:02 to 5:27 pm. ( Last service 5 pm )
Sat. & Sun. 12:01 to 5:56 pm ( Last service 5:30 pm)
8822 Gap Newport Pike (Rt 41) Avondale, PA 19311 / 610.268.2702
Va La Vineyards



Penns Woods Winery is a family-run Pennsylvania Winery. With over 40 years of experience in the wine business, winemaker, Gino Razzi, and his daughter, Carley Razzi Mack, produce award winning wines from 100% Pennsylvania-grown grapes. Their tasting room at 124 Beaver Valley Road, Chadds Ford, PA provides an all-around vineyard experience. Tasting Room Hours: Open Thursday through Monday. Hours change seasonally .

Galer Estate Vineyard & Winery is a boutique winery located just behind beautiful Longwood Gardens at 700 Folly Hill Road, Kennett Square, PA. Their award winning wines include Pinot Gris, Chardonnay, a French style Rose and a Vidal Blanc Ice Wine. They also make Cabernet Franc, Reisling and Albarino as well as a Cabernet Franc Ice Wine. Their motto is "Blending Nature, Science and Art", which is evident in every aspect of design and production at Galer Estate. Open Mon.-Fri. 4-7PM, Sat. & Sun. 1-7PM or by appointment.

The wineries of the Brandywine Wine Trail open their cellars and tasting rooms for barrel tastings, tours, music, art shows, food and more. Check their website for their seasonal events.

There's More...

For a listing of all Brandywine Valley wineries click here.

Copyright ©2015 Unica Online