Shopping Destination - Limerick, PA
Added October, 2010
Well worth the trip if you like bargains. About 50 minutes from the Brandywine Valley. Outlets at the Philadelphia Premium Outlets include Brooks Brothers Factory Store, Neiman Marcus Last Stop, Banana Republic Factory Store, Juicy Couture, Jones New York, Liz Claiborne New York, Lucky Brand, Perry Ellis, Polo Ralph Lauren, Tommy Hilfiger, True Religion, J Crew, Johnston & Murphy, Reebok, Crabtree & Evelyn, Harry & David, Restoration Hardware and the list goes on. You'll find clothers, housewares, gifts and specialty items in the outlets and prices are worth the drive, especially when they have a sale ongoing. Check their website for information. Use the address below for gps driving. We have also used 3200 Sanatoga Rd, Limerick, PA when our Garmin didn't list the Lightcap Road address. Probably my fault not having download the latest map files from the internet.
Philadelphia Premium Outlets
18 West Lightcap Road
Limerick, PA 19464
(610) 495-9000


Stop in Phoenixville for Lunch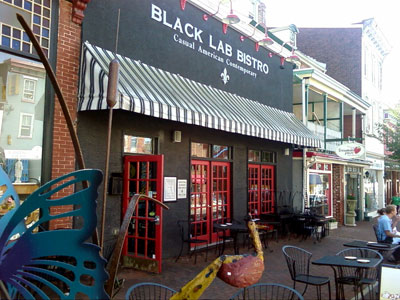 There are no memorable restaurants at or near the PPO that we have found so we thought that we'd give Phoenixville a chance. We found the Black Lab Bistro (Closed in 2015) searching on Google and were happy with our find. Their address is 248 Bridge Street and they are right on the way to Limerick. Once a general store, The Black Lab has a high ceiling with rich red exposed brick and butternut yellow walls adorned with artwork that includes French posters and Van Gogh prints. Their menu has been reviewed as "ambitious". We found it varied and pleasing. Our food was well presented and seasoned and hot. We had their Colossal Lump Crab Cakes with Remoulade Sauce, Frisee Slaw, Malt Vinegar Fries and the Omelette with Goat cheese, grilled tomatoes and asparagus. Both were delicious. My only complaint would be that the potatoes that came with the omelette were a bit too salted for my taste. We highly recommend the Black Lab Bistro as do other critics with more critical palettes I am sure.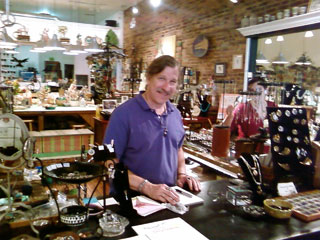 Lunch enjoyed... you may also enjoy stopping in next door at the Diving Cat Studio where you will find original works of art, jewelry, paintings, pottery and more crafted by over 100 artists both local and global. Pictured at right is John, who can answer most any question about the Studio and its artists. Ask him about their special events with featured artists, live music and more. The gallery has a lot to look at and there are hidden treasures everywhere you look. Take your time, but don't forget to head north on Bridge Street to pick up Rt. 422 West toward Limerick, Sanatoga Rd exit and the Philadelphia Premium Outlet.