A Sailing Weekend for Beginners
Republished with permission. First appeared in the August/Sept., 98 issue of "The Hunt" Magazine.
Web links added Sept, 2008 with updated cost information.
If you have always wanted to learn how to sail, but have never tried - here is your chance! The Annapolis Sailing School pioneered "How-to" sailing and they are ready to make all of your sailing dreams come true. So, put on your sailing shoes and come aboard as we spend a weekend at the ASS and learn how to sail.

Celebrating their 40th anniversary, the ASS has taught more than 70,000 students how to sail over the years. "Sailing the Annapolis Way," combines a lecture - sail format that teaches the language, theory, and rules of sailing - and then provides actual "hands-on the tiller" experience. ASS's popular "Learn How to Sail in a Weekend" course, actually called Course 102, offers excellent instruction in the basics of sailing and at the end of the weekend you will be able to rig, launch, sail and return safely to the dock.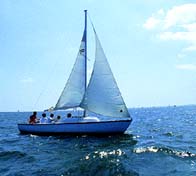 The Rainbow Sloop, a 24-foot day sailor designed exclusively for ASS, is the schooling vessel. It's a safe, steady boat with a roomy cockpit. The Rainbow will not capsize, no matter what, instilling confidence in novice sailors. Also, since the rigging is identical to larger boats, everything you learn is immediately applicable if you plan to upscale.

Course 102 runs Saturdays and Sundays from 9am to 4pm, from March through late October. Course 102 offers plenty of time to learn the rules of the road (or of the water in this case) and time to practice.

The schedule is as follows:

Lecture 9am to 10am
Sail 10am to noon
Lunch noon to 1pm
Lecture 1pm to 2pm
Sail 2pm to 4pm

Saturday Morning
Annapolis' importance as Maryland's state capital is clear as you approach town with its Capital dome towering over cobblestone and brick lined streets, beautifully planted walkways and rows of historic buildings. Entering town, drive around Church Circle and head right down Duke of Glouster Street. Every doorway suggests tales of ancient and on-going adventures, with most of the historic district gloriously restored and in use today. Shops, restaurants, antiquities are everywhere, but that's for later. Class lets out at 4 o'clock, leaving time to explore Annapolis, ripe with treasures in the tradition of old Clipper Ships.

At the end of a shaded residential lane that ends at the water's edge, is the ASS's main building. At 8:30am people are assembling to register and I quickly realize I am a beginner among a range of students taking every conceivable level of instruction including advanced sailing and cruising courses. I take a short ride over to the school's marina and begin my quest to learn how to sail.

Around every turn on our approach to the harbor, we see endless rows of boats, docked at marina after marina. Nestled at the mouth of Back Creek Harbor, ASS's fleet of Rainbow Sloops beckon to students.

We are met by 15-year ASS staff veteran Tim Dowling, who briefs me on the course and what to expect. "Today, you will be introduced to sailing and its language. By the end of the day you will have had two hours of classroom time and four hours of sail time, and will actually be able to rig, sail and return to the dock. Sunday focuses on safety, overboard recovery and more practice time sailing." Tim emphasized that ASS strives for 100% student involvement and 0% instructor involvement, so students learn through doing. "There is no substitute for experience. The first time out - you are sailing out of the harbor. We have you here for 12 hours - instructors talk and convey, students do." Of learning to sail, Tim said "half the challenge of beginning sailing is learning the language - it's like learning French. Also, sailboats operate differently than cars. You put the tiller in the opposite direction that you want to go-it's not a normal human reaction."

Safety is a primary concern at ASS, with one-quarter of the course devoted to safety issues. Fun is another big priority. "Jerry Wood, founder of ASS, came up with the idea of recreational sailing instruction. The whole idea here is to learn how to sail and have fun." says Tim.

Families, college grads, couples and individuals take the basic sailing course as part of an educational vacation. Cindy, a mom and paralegal, was at ASS to take Basic Sailing, along with her family and friends, all in various other ASS courses. Her two young sons were in ASS's KidShip Sailing School, while other friends were taking more advanced courses. They plan to take ASS's follow-up Five-Day Sailing Course all together, where they will sail around to charming villages on the Chesapeake - fine tuning their sailing skills, under the guidance of an ASS instructor. Two college grad ex-roommates from Stanford were taking Basic Sailing and also planned to take the follow-up 5-day course.

The first lecture covers the basic terms, rules, and principals of sailing. We are introduced to the Rainbow and learn what the parts of the boat are, what they do, how to sail upwind and downwind, and the points of sail. Our instructor, Susann Steinke, another ASS veteran, is terrific. Her lecture covered boat nomenclature, steering, sail trimming, putting on and taking off sails, finding wind direction, tacking and jibbing maneuvers, points of sail, right of way rules and safety issues.

Saturday morning's first sail offered a chance to implement what we had just learned. "Your goals for our first sail are to be able to rig the boat and to steer in a straight line," says Susann. "Bow, stern, starboard, port, sail trim, sail theory, beam reach, broad reach, running, tacking, jibbing . . . OK, let's see if we can remember everything and go sailing."

We are split up into groups of threes and fours per boat, each with an instructor. My group represented a range of sailing experience. Cindy has been sailing mainly as a passenger. Kathleen had some experience, but wanted to be able to crew. Jordan, a student from the midwest, here on a family vacation, has not even been a passenger.

We head out to the docks and Susann assists as we put up the rigging on our Rainbow. Surprisingly soon, the boat is rigged and ready to sail. We discuss a strategy for sailing out of the harbor, taking into account wind direction, boat traffic and general destination - and off we sail. Taking turns at the tiller, we practice the morning's lessons, all the while reviewing sailing terms and principals.

The Rainbow Sloop is sure and stable as we test our new skills. To hold a straight course is our mission. To feel the wind fill the sail and glide along, is to soar, however briefly, with the great sailors of history, the Americas Cup, the Whitbread. Perhaps I am going a bit overboard, but to actually be sailing, the skipper in command, is very exciting indeed.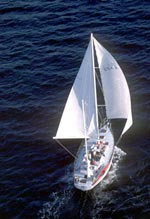 As we sail along, Susann answers questions and explains more about the points of sail, how to use your tell-tales (wind directional markers) to find the wind, coordinating the mail sail and the tiller, etc. We head too far into the wind and lose momentum, entering the dreaded "no sail zone." The tell-tales are parallel with the sail, pointing out the tiller adjustment needed to head off. Fortunately, the Rainbow patiently waits for the proper commands, and once redirected to the wind, we sail off beautifully.

After the lunch break, we are back in the classroom for one hour, to learn more about sailing up and down wind. We also spend time reviewing, asking questions, and addressing safety issues, including thunderstorm procedures, running aground and right of way rules. The afternoon sail provides another opportunity to test our new skills as we take turns sailing and crewing. Our mission for the afternoon is to conquer sailing up and down wind. As we gain more confidence, we are able to find the best point of sail and better hold our course. "Tell-tales are one way to find the wind, feel is another," says Susann, who tells us to turn our faces to the wind, to feel the wind direction. Suddenly we find the magical sailing zone called "In the Groove," where Susann tells us that we have achieved the perfect balance of wind in sail.

We discuss the points of sail, (how the wind meets the sail). There are three points of sail: close hauled, reaching, and running. A close hauled boat is being sailed as close to the wind as possible without luffing the sails. A running boat has the wind direction aft or astern. Between the two is a large area broadly termed reaching. Reaching is generally further refined into close reach, beam reach and broad reach, determined by the angle of the wind to the sail. We are sailing into the wind, close-hauled, with the wind at about a 45 degree angle to the sail.

As the afternoon progresses, the waterway fills up with other boats, providing countless opportunities to practice right of way rules. The experience of negotiating the Rainbow through boat traffic is invaluable.

After our sail, we are free for the rest of the afternoon and evening, until Sunday's morning session. Annapolis, a colonial maritime seaport, providing a marvelous setting for the sailing school. Thousands of people visit Annapolis every year for the history, the seafood, the Naval Academy - and of course, for the sailing. Basic sailing's 9 to 4 schedule allows time to explore the charms of this lovely town. A fleet of historic inns and B & Bs await your slumber. Try the elegant State House Inn, located right on State Circle. Or contact Historic Inns of Annapolis, who represent several charming B & Bs. Dozens of fine eateries will tempt your palate. Shops carrying wares from far and near will court your wallet. That is if you don't meet up with classmates to revel and discuss the day's adventures.

Sunday Morning
Sunday morning's lecture addresses reefing the sail and overboard recovery procedures. The sail that follows finds us practicing the overboard recovery drill. Fresh from a full day of sailing school, we are left to rig the boat and show off our knowledge. With minimal help from Susann, the boat is rigged and ready to sail. Again, we take turns at the helm, allowing everyone a chance to try the drill. A rubber float is tossed overboard and the drill begins. We come about and circle around and miss the first time. The second time we swing a bit wider and success! While sailing, Susann reviews the basics - like the importance of centering the sail before a jibe, (to prevent a dangerous boom swing), and why you trim your sail when you head into the wind (to catch the wind).

The afternoon lecture focuses on the basics of how to read a chart, navigation, as well as some review and Q&A. The afternoon sail gives us the chance to practice anything we want to work on, as well as time spent fine tuning the overboard recovery drill. Our goal for the afternoon is to sail as much as possible without interjection, making little mistakes and learning from them. We are also able to apply our basic knowledge of charts to the buoys and markers we see.

Soon our inexperience is behind us and by the end of the weekend course we are actually sailing and know what sailing terms like jibe, close hulled, and "helms to lee" mean. We know how to rig a day sailor, and can now enjoy a fun, safe sail, and safely to the dock.

Of course you will want to practice your newly found skills - and the ASS offers follow-up three and five day cruising courses during the week to practice. These longer courses offer the same amount of 12-hour lecture/sail instruction as course 102, and add one to two days of supervised sailing to fine-tune your technique. ASS also rents Rainbows to graduates.

For more information
Contact The Annapolis Sailing School at 800.638.9192 or (410) 267-7205. You can register for their courses online. ASS's Basic Sailing Course 102, or How to Become a Sailor in a Weekend ($475 per person). Happy sailing.

© Unica Online