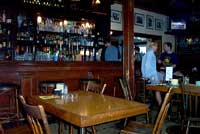 Four Dogs Tavern

1300 West Strasburg Road, Rt. 162
West Chester, PA 19382
610.692.4367
thefourdogstavern.com

An innovative city bistro found its way to a quaint country village making The Four Dogs Tavern something to bark about. An outrageously eclectic menu and seriously delicious food keeps patrons coming back. The tavern's logo, based on an antique French print that now hangs next door in the Marshalton Inn, sets the tone for its whimsical décor. Those four dogs are purported to be the grandparents of the first basset hounds. Outdoor terrace dining available three seasons.

Open seven days a week from 11:30 AM for lunch and dinner.
Entertainment Thursday - Sunday.

Location: 15 minutes from Longwood Gardens and the Brandywine River Museum, but good luck finding it. Even if you've been there before, your best bet is to use your Tom Tom or Garmin gps device. We did and found the place no problem, but were totally surprised by the way we got there. It's an adventure no matter how you look at it.