Winterthur Museum, Garden & Library

5105 Kennett Pike, Wilmington, DE
800.448.3883 / 302.888.4600
www.winterthur.org
Special Events



Overview

Winterthur, is the former country estate of Henry Francis du Pont (1880-1969). Today, Winterthur (pronounced "winter-tour") is the premier museum of American decorative arts, with an unparalleled collection of 85,000 objects made or used in America between about 1640 and 1860. The collection is displayed in the 175-room house, much as it was when the du Pont family lived here. Winterthur is also home to a masterfully designed naturalistic garden and a significant research library, all within 1,000 acres of rolling meadows and forest... an exceptional combination of beauty, history, and learning.



Experiencing Winterthur

You can explore and discover the magnificent collection of American decorative arts by touring the house and exhibition galleries. Enjoy the garden and surrounding woodlands and meadows, play in Enchanted Woods and the award-winning children's garden. Dine in the Pavilion or the Cottage Café and shop at the Museum Stores. (Adults: $18, Students/Seniors: $16, Children 2-11: $5)



The Museum & Galleries

Experience two floors of decorative arts exhibits, period rooms, film and audio messages and interactive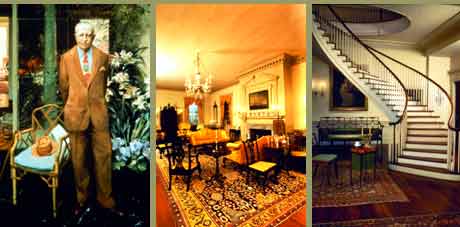 (L to R) H.F. du Pont, 1965, by Adam Shikler. Port Royal Parlor (Gracious Living Tour), Montmorenci Stair Hall. Photos courtesy of Winterthur Museum.

displays. Don't miss the hand-painted 18th-century wallpaper in the Chinese Parlor and the stunning two-story Montmorenci staircase. The galleries celebrate and display American design and craftsmanship at its best and house changing exhibitions throughout the year. The Dorrance Gallery houses the Campbell Collection of Soup Tureens, a treasure trove of artfully crafted tureens in fascinating forms. The Touch-It Room engages children, who can play dress-up with colonial costumes and take tea in the parlor. Touch-It Room Hours - Summer: Tuesday - Sundays from 12:30 - 4:30 pm. Fall & Winter: Tuesday - Friday from 2:30 - 4:30 pm; Saturday and Sunday from 12:30-4:30.



The Gardens

Winterthur is set amidst a 1000-acre preserve of rolling meadows and woodlands, streams and forest. Its naturalistic gardens are among America's best with displays ranging from magnificent specimen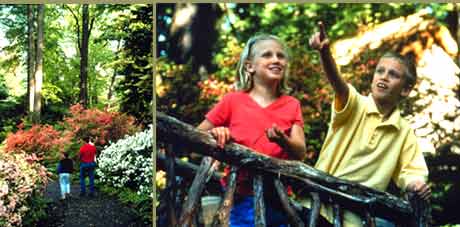 L to R) Azalea Woods. Winterthur photo. Enchanted Woods. A Rich Dunoff photo.

plantings to massed displays of colorful azaleas in season. Distinct garden areas are in bloom starting in February, continuing throughout the spring and summer months and into September and October.

Highlights of the garden include the March Bank, where drifts of thousands of early-blooming bulbs fill the hillside with washes of yellow and then blue in early spring. In May, Azalea Woods, an eight-acre wonderland, features a masterful blend of white, pink, lavender, salmon and red azaleas under a canopy of white oaks, tulip poplars and American beeches. Enchanted Woods, also in bloom May through June and again in August, is a magical, fairy-tale garden for the child in all of us.



The Library

The Winterthur Library, a research facility with a wide collection of materials on art, history and decorative arts, is frequented by scholars from around the world.



Special Events

Point-to-Point Races steeplechase races. Mother's Day

Delaware Antique Show, November

Yuletide at Winterthur, November-January
For exact dates of these and other events, click to our Calendar of Events

Hours of Operation

Museum & Garden: Tuesday-Sunday 10:00 am-5:00 pm. Closed Mondays (except during Yuletide), Thanksgiving Day and Christmas Day.
Library: Monday-Friday, 8:30 am-4:30 pm (Closed holiday Mondays)



Admission

General admission includes full access to the Winterthur Garden and Galleries as well as an introductory tour showcasing some of the most spectacular rooms in the 175-room house.

General admission pricing:
Adult $20
Child (2-11) $5
Infant (under 2) Free
Senior (62) $18
Student (with valid ID) $18
Group discounts are available by contacting 800.448.3883.
Tickets are valid for two consecutive days.



Special Tours

One and two hour reserved tour packages combining general admission and the tour are offered (adults $30/$40). Call 800.448.3883 to confirm availability and make your reservation.



Special Needs Access

The museum, galleries and garden are wheelchair accessible. For additional accommodations, please call 800.448.3883, 302.888.4600, TTY 302.888.4907.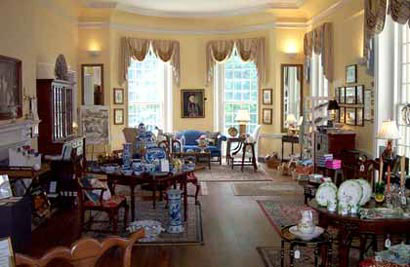 Museum store.

Museum & Book Store

Open during museum hours, the stores offer an outstanding offering of reproduction home furnishings and accessories, plants, books and gifts. Call 302.888.4822 or 302.888.4707.



Dining

The Pavilion
Enjoy a relaxing lunch in the Visitor Center, featuring a full salad bar, soups, several hot entrée choices, snacks, desserts, sandwiches, specialty drinks and more.
Tuesday-Sunday, 10:00 am-4:00 pm
10% discount for members.

Café
Located in the Museum Store, The Cottage Café features soup, sandwiches, fresh pastries, gourmet coffee and espresso, wines by the glass and homemade ice cream. Dine inside or on the patio overlooking Clenny Run stream.
Tuesday-Sunday, 11:00 am-4:30 pm
10% discount for members.

Picnic House
Ticketed visitors are welcome to have a picnic on-site. Pack your basket at home and enjoy your lunch in the garden, at the picnic house (inside or outside), or at an outside dining area by the Galleries.



Directions

Winterthur is located on Route 52 (Kennett Pike), six miles north of Wilmington, DE, and 5 miles south of U.S. Route 1 in Pennsylvania.

© Unica Online