Brandywine River Museum of Art

U.S. Rt. 1 | Chadds Ford, PA | 610.388.2700


Brandywine River Museum of Art Website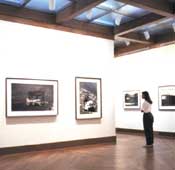 Overview

Often called the "Wyeth Museum" for its extensive collection of works by the internationally acclaimed Wyeth family - grandfather N.C., father Andrew and son Jamie - the Brandywine River Museum is housed in a converted 19th-century grist mill on the banks of the Brandywine in Chadds Ford, Pa.



The Collection

Works by Brandywine school founder Howard Pyle and students including Maxfield Parrish, as well as paintings by American illustrators Charles Dana Gibson, Rockwell Kent and others. Other works include 19th-century landscapes, still lifes and interior scenes by artists including Jasper Cropsey, George Cope and Jefferson David Chalfant.

Hours of Operation: Daily 9:30am - 5:00pm. Closed Thanksgiving Day and Christmas Day.
General Admission: $18, adults
$15 seniors (65+)
$6, students with ID children ages 6-18.
Free for children 5 and under.
Free admission the first Sunday of the month, February through November.

Parking is free. Individual audio tours can be rented for $3. Group rates are available with advance reservations.
Handicap Accessible: Display areas are accessible.
Camera Policy: Photography inside the museum is not permitted.

The Museum participates in Blue Star Museums and offers free admission to all active duty military personnel and their families from Memorial Day through Labor Day.

The Museum Shop: Open during museum hours, the shop offers a selection of books, gifts, posters and reproductions relating to the museum's collections.
Café: Open daily 10am - 3pm. Closed Mondays and Tuesdays from January through March.
Directions: The Brandywine River Museum of Art is located on U.S. Route 1 in Chadds Ford, PA, near the junction with PA Route 100. (Creek Road).
---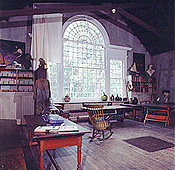 Tour N.C. Wyeth House & Studio

April through November
The house where N.C. Wyeth raised his extraordinarily creative children and the studio in which he painted many of his memorable works of art have been restored to reflect their character in 1945, the year of the artist's death. Educational tours departing from the museum are offered at timed intervals. Wednesday through Sunday; $8 per person in addition to museum admission. Purchase tickets online or call 610-388-2700.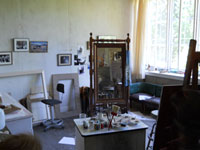 Andrew Wyeth Studio Tours

April through November
The Chadds Ford studio where Andrew Wyeth, one of America's most significant artists, painted many of his most important works of art, was opened for tours for the first time in the summer of 2012. Tickets are $8 per person in addition to Museum admission. Advanced, timed tickets are recommended.Tours will take place Tuesday through Sunday at 10, 10:45, and 11:30 a.m. and 12:15, 1, 1:45, 2:30 and 3:15 p.m. Tours are approximately one hour long. Children under 6 are not permitted on the tours. Please note: shuttles depart from the museum promptly at the time noted on the ticket. Visitors should board the shuttle 10 minutes before their scheduled departure time. Purchase tickets online or call 610-388-2700.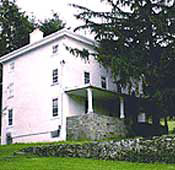 Kuerner Farm Tours

April through November
For more than 70 years, the historic Kuerner Farm was a major source of inspiration to Andrew Wyeth. Since his earliest painting of the farm in 1932 at the age of 15, Wyeth had found subjects in its people, animals, buildings and landscapes for more than 1,000 works of art. Educational tours departing from the museum are offered at timed intervals. Wednesday through Sunday. $5 per person in addition to museum admission. Due to uneven walking surfaces, the Kuerner Farm is not accessible to disabled individuals.

Many of Wyeth's best-known works of art emerged from his long fascination with the farm, including Winter 1946 (1946), Groundhog Day (1959), Evening at Kuerners (1970), Young Bull (1960), Spring Fed (1967), and Overflow (1978). Reproductions of these works are viewed on the tour, along with parts of the house, barn and property to demonstrate how Wyeth altered the physical details of a site in order to communicate a particular idea. Purchase tickets online or call 610-388-2700.


© Unica Online