| | |
| --- | --- |
| Newlin Grist Mill. Photo by S. Fox © 2001 | |
Of Interest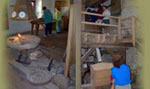 You can see mill stones, models and watch the grist mill operated. Programs for school children and groups are available on topics including colonial history, early machinery and environmental studies. Summer Discovery Nature Programs for children ages 4-12 and Heritage Workshops for all ages are held in July and August.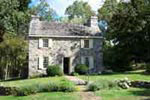 The Miller's House was built in 1739 by Nathaniel Newlin. It is the original construction and is furnished with period furniture authenticated by the Pennsylvania Historical Society. You can tour the house and see how the miller lived and cooked in its small rooms.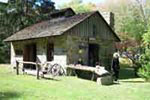 The Blacksmith's shop is a working 18th century replica, which is fully equipped with tools of the period donated by the Mckinley Forge. Below is a demonstration which took place at the Fall Festival held October 6, 2001.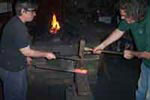 Newlin Grist Mill

219 South Cheyney Road
Glen Mills, PA
610.459.2359
www.newlingristmill.org

Overview

The Newlin Grist Mill, a 1704 grist mill and 150-acre park, is listed on the National Register of Historic Places and is one of several working grist mills in Pennsylvania. The mill was originally built by Nicholas Newlin, a Quaker who obtained a 500 acre grant from William Penn. He brought his family to Pennsylvania from Ireland and built two water-powered mills along Chester Creek.

The mill at the Newlin Grist Mill Park is actually a third mill built in 1704 by Nathaniel Newlin, Nicholas' son. This mill was operated by Nathaniel Newlin's descendants until 1817 as a commercial mill grinding wheat, corn, oats, buckwheat and rye. The mill was in operation until 1941 and the original dam and mill race are still supplying power to the mill today. The mill's interior gears and machinery have been reconstructed to 1700 operational standards and is fully functional. You can watch corn being ground as it was in Colonial times.

The park office was once a train station. Tracks ran by the mill so that rail cars carrying milled goods could be loaded and unloaded and taken to ports like Wilmington for shipment to markets around the Colonies.



Outdoor Recreation at the Park

The park includes 150 acres of nature walks, trout fishing ponds and streams, picnic areas, baseball diamonds and a playground. You can follow the mill race and stream on three miles of walking trails that ends at the original dam built by Nathaniel Newlin. To reserve a picnic area for your group or family, call the office in advance.




"Change Upon the Land:
The Impact of a Mill"

There are museum-style exhibits, models and displays within the grist mill including displays about William Penn, the Lenape Indians and a day in the life of a local miller. There is also a miniature working model of a grist mill that shows how the mill gets its power.




Fall Festival - October

The "Harvest Festival" is held in October. Admission is free. Historic demonstrators and craftsmen arrive at Newlin Grist Mill to demonstrate the sights sounds and smells of 18th century life. Smell the first of a wood-burning bake oven with Blue Hen Bakers, watch open hearth cooks work over an open fire, hear the sounds of iron pounding in the blacksmith shop, and have your own silhouette made. Enjoy the sounds or period harp and mandolin music or catch a performance of 18th century acapella music by The Colonial Revelers. Click to our Calendar of Events for this year's dates and times.



Trout Fishing in the Ponds

March - October, weekends only, 9am - 4pm. Fee $3 per person plus $3 per trout caught. Register in the office. A valid driver's license is required. You can use your poles or the office will provide them. Bait is available for $1.00. Trout caught cannot be released. They must be kept and paid for.



Hours of Operation

The park is open daily from 8:00am to dusk, office hours are from 9:00 am to 4:00pm.



Directions

Newlin Grist Mill is located just off Rt. 1 at the intersection of Cheyney Rd. in Glen Mills, PA. You can see the Mill from the Rt. 1.

© Unica Online